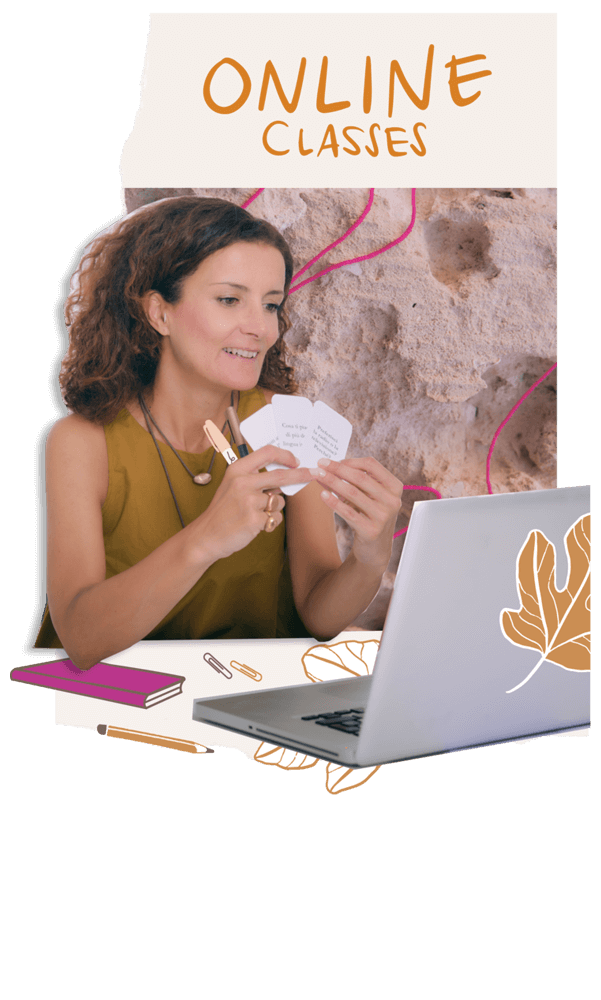 Italian for foreigners
online
Some people need time and devotion to travel through the Italian language, no pressure.
Therefore, I have thought of online courses lasting either six or ten months, one hour class a week. This type of course will allow you to be steady and dedicated and calmly reflect on a deeper knowledge of the language. Your learning pace will be decided as we progress, and your skills will gradually emerge; the ones requiring development and those that should be encouraged.
The learning material is original; you will receive it via e-mail and will be used during classes. Plus, you will also receive a workbook to independently revise the grammar topics that will be dealt with on a weekly basis. Finally, every class will make full use of online inputs, titles of books, articles or podcasts to give a closer look to the themes you are more interested in. 
If you have different needs, talk to me! There are individual classes too.
LEVEL: intermediate and advanced.
In case you opt for an online course, you may choose either between a 10-month program, 40 classes, once a week, or a 6-month program, 24 classes, once a week.
Every class lasts 60 minutes, the original learning material will be customised according to your needs, it will be sent via e-mail and used during classes, together. A workbook will be also delivered every week to put into practice what you have learned and go even deeper. As soon as you send it back to me, I'll reply by e-mail. 
There are 6 available places every year, to provide all the necessary care that this program requires.
There is no entrance test, but we'll have a video call a few days before the course starts, just for a half an hour chat and to schedule our classes. 
In case you need further information or want to know when the next course starts, please find the form to write to me here below.
You might also subscribe to our newsletter to know about the dates and available places of our courses beforehand.
The 10-month individual program is €. 1.200,00.

The 6-month individual program is €. 720.00.

Each hour individual class is €. 37.00.
Compila il modulo qui sotto. Ti risponderò presto!
Make your request, I'll get back to you as fast as possible!