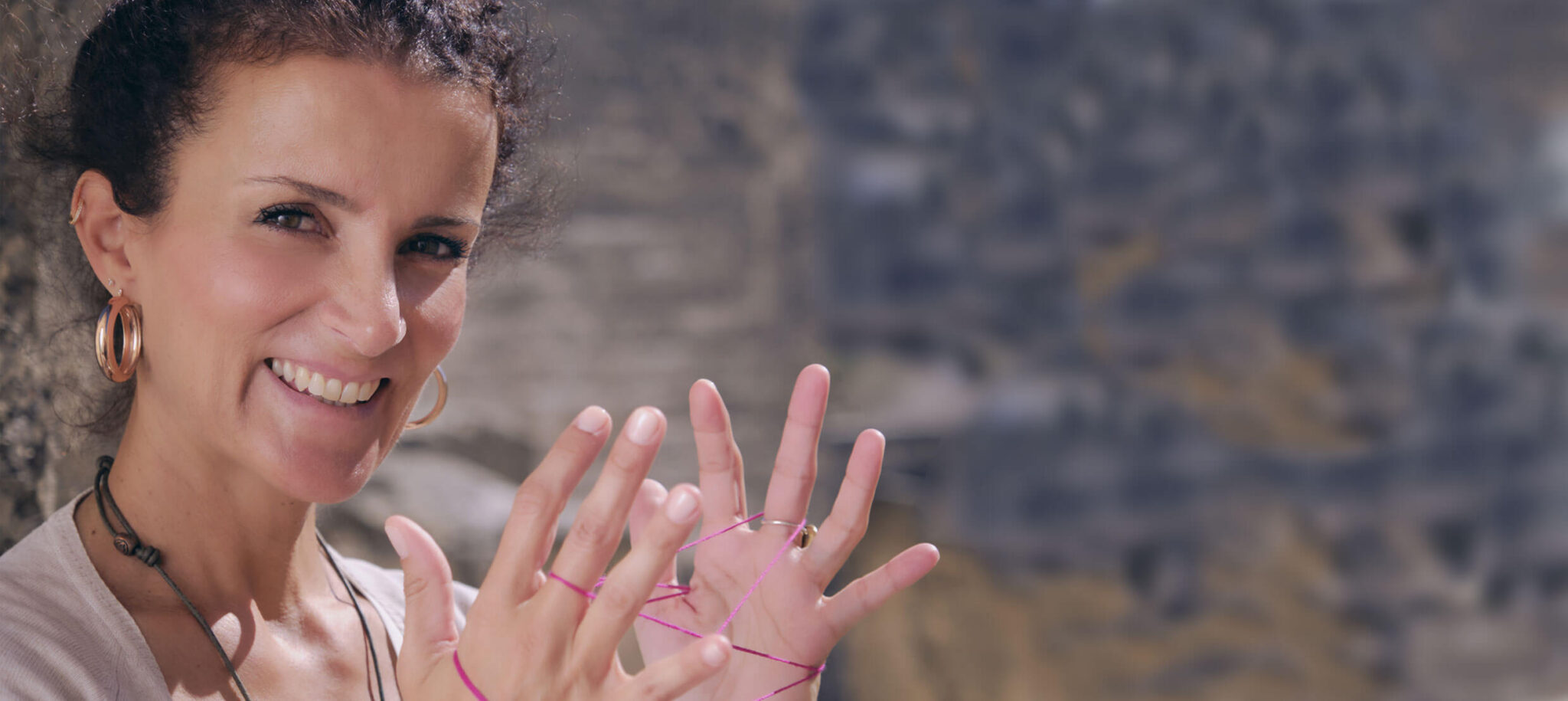 Nice to meet you, my name is Elisabetta
and I am going to walk you
through the Italian language
ITALIAN FOR FOREIGNERS IN MATERA
I am an Italian teacher to foreigners both in Matera and online. I'm going to help you improve your Italian language skills through understanding and creativity,
via individual courses or in small groups.
I'm going to walk you through Italian language and culture alike, on a quest to find out about your talent and potential.
Nice to meet you, my name is Elisabetta
and I am going to walk you
through the italian language
ITALIAN FOR FOREIGNERS IN MATERA
I am an Italian teacher to foreigners both in Matera and online. I'm going to help you improve your Italian language skills through understanding and creativity, via individual courses or in small groups. I'm going to walk you through Italian language and culture alike, on a quest to find out about your talent and potential.
Here is
La Piccola Scuola
A warm welcome to La piccola scuola, a real and virtual space that will be the starting point for your journey towards your best Italian.
La piccola scuola was conceived as a lively meeting place to embark on an intensive program throughout Italian language and culture;
however, it is also an online environment to begin to move, calmly and slowly, towards your language wish. Individual programs and courses are available at La piccola scuola, and there are also courses for very small groups three times a year.
This allows me to take good care of your needs. Our journey together is made of creativity and easiness,
dedication and commitment through courses meeting your real needs.
You will learn at your own pace, I'll just follow. I'll help you find out your language talent and put it in practice. You'll find all the encouragement and stimulation you need to embrace your best Italian independently and methodically, even in out-of-class time.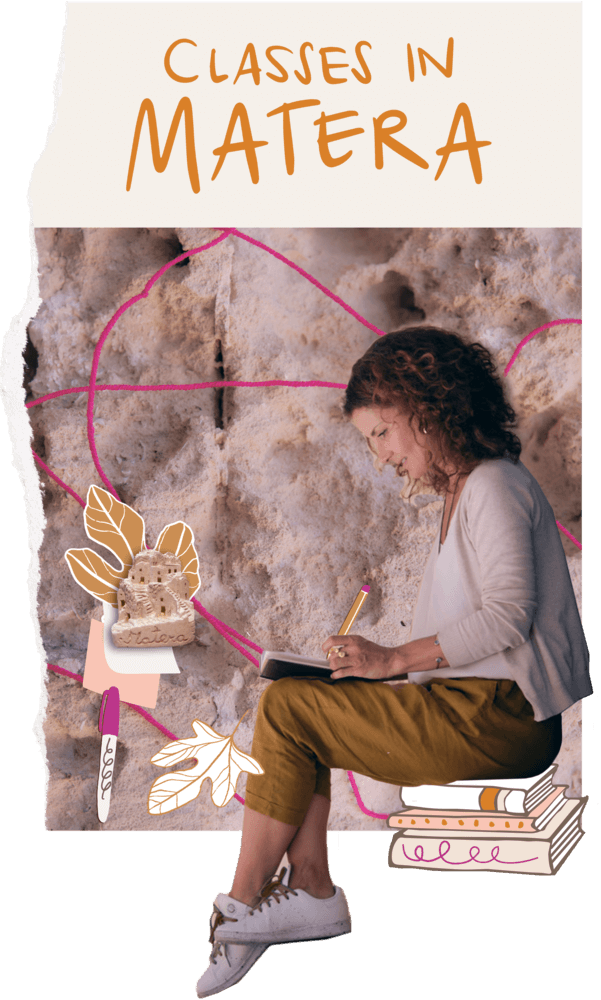 Italian for foreigners in Matera
See you in Matera to open the doors of La piccola scuola for you and start your intensive program towards your best Italian.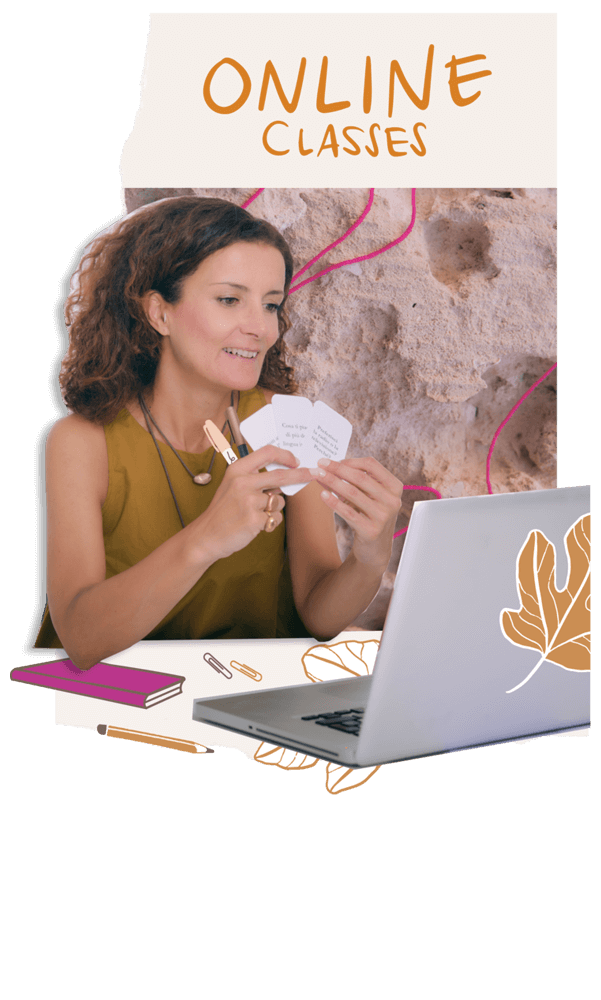 Italian for foreigners online
See you online in case you wish to improve your Italian, throughout a steady and slow-paced program.
A couple of words on my
methodology
The learning material being used is original and designed for an Italian audience as well as the customized learning resources that I personally realize, keeping in mind the targets we are aiming at.
The idea of the contemporary Italian culture I want to convey is totally free from stereotypes and biases.
I don't talk much but I am a good listener and will let your Italian flow and become increasingly more fluent, as you find out about Italian grammar rules yourself. I'd rather dive deeper into Italian, than be shallow if this allows me to go further.
You'll have the methodology and tools you really need to nurture your wish to keep studying and discovering the daily use of the Italian language.
Commitment and creativity will help me walk you through the right steps to achieve your targets, and your motivation will be my primary source of inspiration. I really want to convey my enthusiasm for the basics of the Italian language and eventually share the joy of using it.
The people I have met during my experience as an Italian teacher for foreigners have always been highly passionate and motivated to learn about the Italian language. I have been working with students with a good level of Italian and willing to go beyond their limits; their target is speaking Italian fluently and correctly; they are interested into a deeper knowledge of Italian grammar and culture, as a way to broaden their horizons on the whole world. 
Subscribe to the 

newsletter
If you wish to receive an e-mail packed with Italian "things" and keep posted about the latest news on courses, please fill the form below to subscribe. By signing up, you will receive access to my free resources.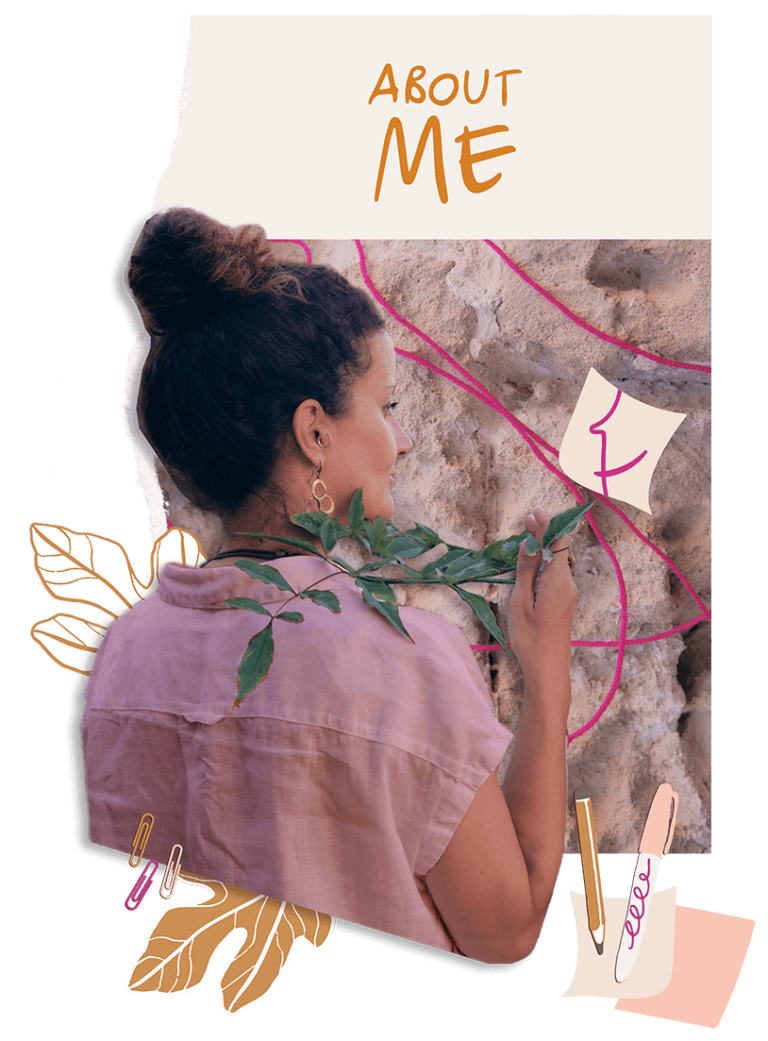 My name is Elisabetta and I am an Italian teacher for foreigners. Why did I pick this job? Because this is my talent. How do I do it? With easiness and dedication. Are you curious to know how did I get here? –
These are my gifts
for you
I really love the fact you are learning, speaking and trying to improve Italian. I'm so thankful for your passion towards my native language and culture that I decided to give out some gifts.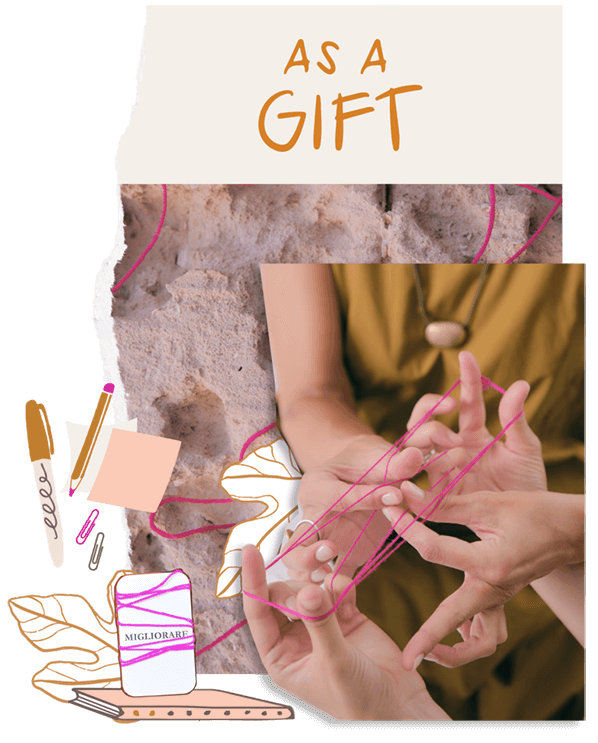 Other people's experiences
"Mi è piaciuta molto la città e ho visitato molti posti interessanti. Penso di aver imparato più italiano, più parole e anche un po' di congiuntivo. E' stato un ottimo soggiorno e sono stata contenta di tutto. Anche il tempo è stato fantastico".
"In may of 2019 I spent 2 weeks at Matera and frequented "La piccola scuola". I had a double lesson each day, all on my own with the teacher and owner of the school, Elisabetta. At the beginning of each lesson we talked about what I had been doing in my spare time and each day she gave me new ideas on where to go and what to see, which I followed whenever possible, and never regretted. Her lessons were both demanding and highly interesting, Elisabetta succeded in bringing in variety and depth. We worked on grammar and literary texts, did listening comprehension, we discussed questions of style and vocabulary, differences between written adn spoken italian as well as regional idiosyncrasies. In between we listened to Italian popular songs and watched a funny cartoon on TV. Elisabetta is a teacher who knows how to challenge students, so thaty they can make progress, learn from their mistakes and improve. She is highly professional, passionate and patient and stimulated me in a variety of ways. She gave me clarity where there had been confusion and helped me organise the knowledge I had acquired before I came to Matera. Matera, being the European cultural capital of 2019, is definetely worth a visit, it is extraordinary, unique, "una meraviglia", and if you can combine a visit to Matera with a course at "La piccola scuola" you get the perfect fusion of knowledge and study with culture and art."
"I had the great opportunity to do a two-month course with Elisabetta everyday for two hours. It was a wonderfully rewarding experience. Because, beyond the great progress I've made with the language, Elisabetta was always giving me more cultural insights so that I can use the language at best, in all its subtlety. Thanks to her, I speak Italian fluently. Moreover, her curiosity, her sincere interest in my work and her will to meet my needs, allowed me to deepen my knowledge of my field of activity (namely zero-waste) in italian. Elisabetta is really a beautiful personne, kind, professional and passionate, I can only recommend her to you ! And finally, what better than to learn Italian in the most fascinating city of Italy ? Matera is as wonderful as are the inhabitants that live there."
"I took three individual Italian lessons with Elisabetta at La Piccola Scuola in Matera.  Before I arrived, Elisabetta asked what I needed to work on and when I got there, she had lessons planned and worksheets printed out.  Elisabetta is very professional, knowledgeable and patient.  In the three hours we covered a lot of material and I was impressed with how clearly she explained things.  The school is in the lovely city of Matera, the European Capital of Culture 2019.  If you want to learn Italian or brush up on your Italian language skills in a picturesque southern Italian town, I highly recommend La Piccola Scuola".
"This was the first time that I took a language course in the country where the target language was spoken (instead of taking weekly classes in my city), and it was the right decision because "Immersion" is so much easier this way. The school is located in a really lovely town and offers a good atmosphere in a nice building. Elisabetta, the teacher and director,  is very motivated and it was a pleasure to learn with her. She answered every question we had and took our individual room for improvement into account. I attended a two week course with 4 hours of lessons daily (Monday to Friday), in a very small group of 3. Local people were very relaxed and reacted favourably to our attemps to transfer theory into practice – very important because to learn a language, it needs to be spoken, without fear of making mistakes. – It is easy to move around in Matera, my apartment was only a five minute walk away from the school. There are several museums, lots of restaurants and cafés, and possibilities to make excursions to neighboring places using public transportation. I really hope to come back and improve my Italian skills!".
La Piccola Scuola really is a small school. When I was there I was the only student for one week and there were two of us during the second. This allows the lessons to be well suited to the personal needs of the students. Elisabetta, apart from being very sympathetic, is a good teacher. I really enjoyed the lessons. Of course, the school is situated in the ancient city center of Matera, which makes it a unique place to learn Italian. I hope to return to this great city and to this school!
I recently spent a week studying italian language and culture with Elisabetta at La Piccola Scuola.Elisabetta is very passionate about the language and the town of Matera. She was very patient with my limited italian, was able toquickly assess my level and to design the classes to my best advantage. She was very patient and explained the grammar and theidiosyncracies of the language very well.Matera itself is one of the most fascinating towns I have visited. It is alive with history and there is plenty to do here, visiting the Sassi,the cave dwellings, underground churches and museums.It was a great combination of study and discovery which I highly recommend to others interested in the language and history of Italy.Thank you again, Elisabetta.
Durante la mia vacanza di una settimana a Matera in giugno ho frequentato il corso individuale di questa scuola per 2 giorni, 3 ore al giorno. L'insegnante era seria, brava e simpatica. Mi sembrava che a lei piacesse insegnare.Le lezioni sono state interessanti e divertenti. Mi ha preparato i diversi materiali didattici e non mi sono stancata. La posizione della scuola è molto buona, si può vedere il bellissimo panorama del Sasso Barisano dalla sua terrazza.
Thanks to Elisabetta's excellent teaching skills and the varied material she provided (texts for reading, film-clips for listening, tasks for writing, but also common, though sometimes challenging grammar-exercises) I think that I have finally succeeded in bridging the gap between my original, rather rudimentary Italian and the more tricky aspects of that language. After the end of my two-week course at La Piccola Scuola I spent some more time in beautiful and stunning Matera and Southern Italy, and it was actually then that I fully realized how much I had profited from what Elisabetta had taught me. Unless people spoke dialect – Elisabetta sets great store on a beautiful "classical" and correct Italian – I understood everyone almost fully and was able to participate in conversations on almost any subject, and even to use some idiomatic expressions. And, stimulated by Elisabetta's own interest in literature and films, I have now started to read Italian novels – almost fluently – to keep abreast of what I have learnt. Thanks a lot, Elisabetta.
I've come to Matera for three weeks to learn Italian. I couldn't say much but « Spaghetti » and « pomodoro » when I arrived. In three weeks, I have improved more than I could imagine, thanks to these courses. Elisabetta is an attentive and really kind person and teacher. She is methodic, patient, and encouraging. She does everything for you to evolve in a comfortable environnement. Plus, she is a curious person. Knowing about my work in cinema, she has adapted her lesson to help me learning basis of the cinema language. I have loved going to these classes everyday, and also before/after class sharing about the Italian and the French culture, about the nice spots in Matera and Italia, and having coffee together. Grazie per tutto Elisabetta. Spero che ci rivedremo presto.
Ho frequentato un corso di italiano di due settimane a La Piccola Scuola di Elisabetta in autunno 2017 e sono contentissimo di averlo fatto. Oltre ad aver imparato molto sulla lingua e cultura italiana, mi sono divertito tanto studiando nel nostro piccolo gruppo. Grazie all'utilizzo di materiali e metodi didattici versatili – spaziando dai diversi generi di testi (narrativi, giornalistici), canzoni e video ai giochi divertentissimi – e grazie soprattutto alla professionalità e gentilezza di Elisabetta, è migliorata a vista d'occhio la mia capacità di produrre e capire la lingua italiana. Consigliatissima! Saluti da Helsinki!
As an analytical thinker with a profound knowledge of German grammar, I conclude that Elisabetta masters the Italian language on all levels. Her verbal skills are as profound as her grammatical competence. Further, she is also interested and empathetic, in short, she is completely open-minded. Moreover, she understands Italian culture, society, and problems, enabling discussions on various important topics. Last but not least, with her uncompromising punctuality and reliability Elisabetta surpasses all previous stereotypes about Italy. I have worked with her for a whole year, three private lessons a week. Many more will follow.
Please fill the form below, I'll get back to you as fast as possible!