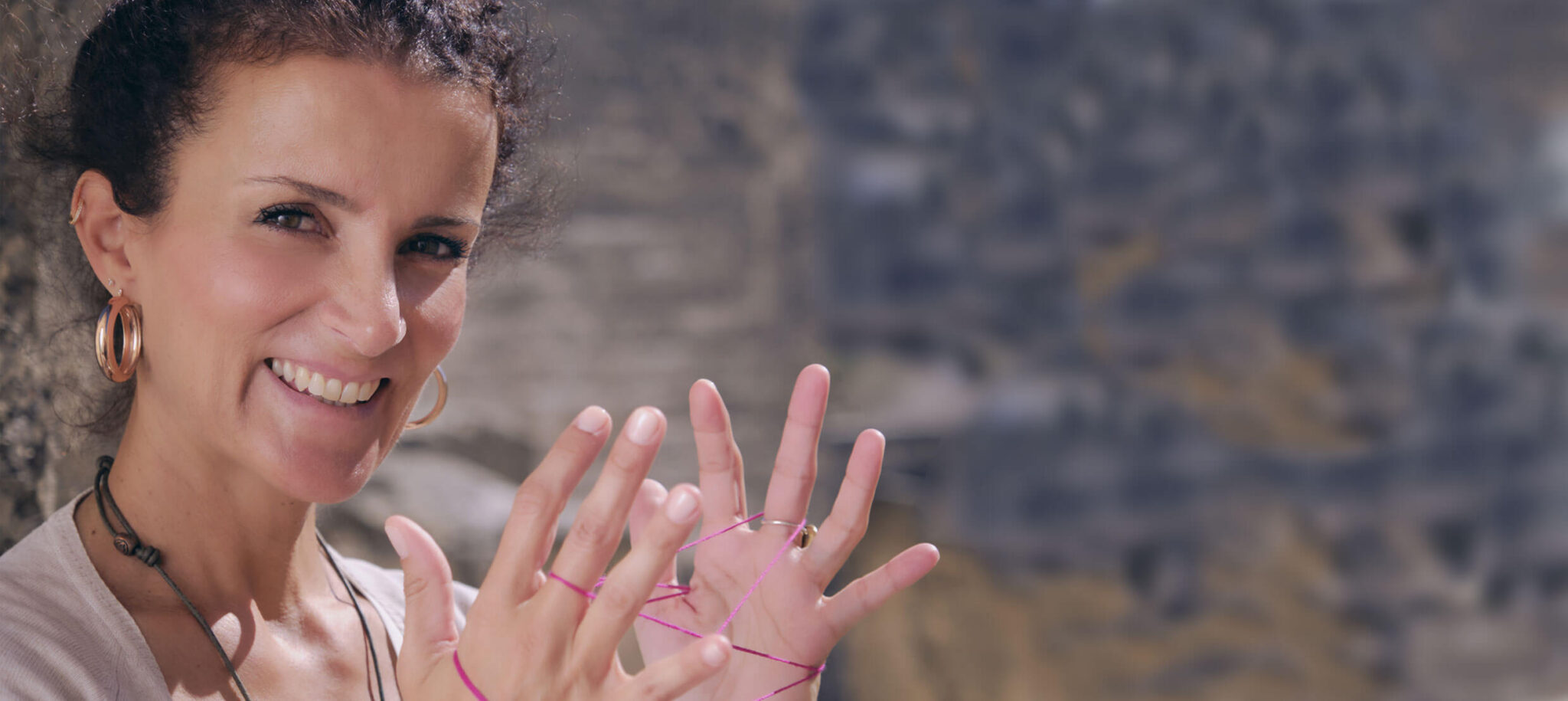 Mucho gusto, soy Elisabetta
y te acompañaré en tu camino hacia el italiano.
ITALIANO PARA ESTRANJEROS EN MATERA
Soy una profesora de italiano para estranjeros en Matera y online también.
Te ayudaré a mejorar tu italiano con mucha empatía y creatividad, con programas individuales o en pequeños grupos.
Te acompañaré en tu viaje en la cultura y el idioma de Italia, para desbloquear tu talento y tu potencial.
Mucho gusto, soy Elisabetta
y te acompañaré en
tu camino haciae el italiano
ITALIANO PARA ESTRANJEROS EN MATERA
Soy una profesora de italiano para estranjeros en Matera y online también.
Te ayudaré a mejorar tu italiano con mucha empatía y creatividad, con programas individuales o en pequeños grupos. Te acompañaré en tu viaje en la cultura y el idioma de Italia, para desbloquear tu talento y tu potencial.
Te presento
La Piccola Scuola
Seas bienvenido/a a La piccola scuola, un espacio real y virtual donde va a empezar nuestro viaje hacia tu mejor italiano.
He pensado que La piccola scuola puede ser un lugar de encuentro para emprender, aquí en Matera, un camino intensivo dentro de la cultura y del idioma de Italia; al mismo tiempo, también existe un entorno online donde es posible emprender un camino largo y lento hacia tus objetivos lingüísticos.
En La piccola scuola hay cursos individiuales y, 3 veces al año, cursos para micro grupos.
Este enfoque me permite prestar atención a tus necedidades. Nuestro viaje consta de creatividad y relajación, determinación y compromiso. Los cursos que ofrecemos están en línea con tus verdaderas habilidades.
Aprendas a tu ritmo, yo lo seguiré. Te ayudaré a descubrir tu talento para los idiomas para enseñarselo al mundo.
Aquí encontrarás todo el apoyo y el empoderamiento necesarios para seguir con tu camino hacia tu mejor italiano de forma autónoma y con método, incluso a fuera de las clases.
LO QUE PODEMOS HACER JUNTOS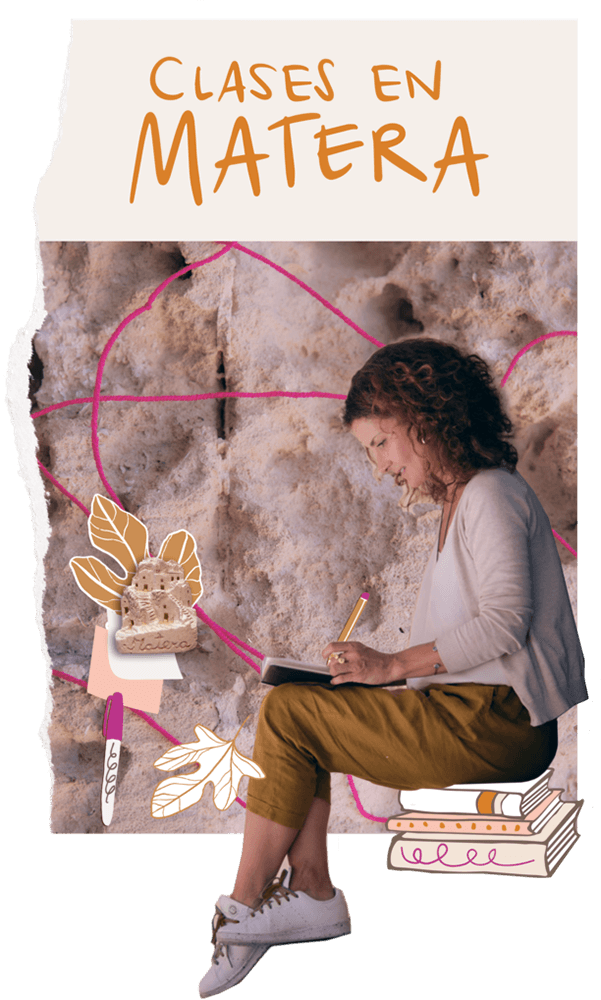 Italiano para estranjeros en Matera
Te espero en Matera para darte la bienvenida a La piccola scuola y emprender nuestro camino hacia tu mejor italiano.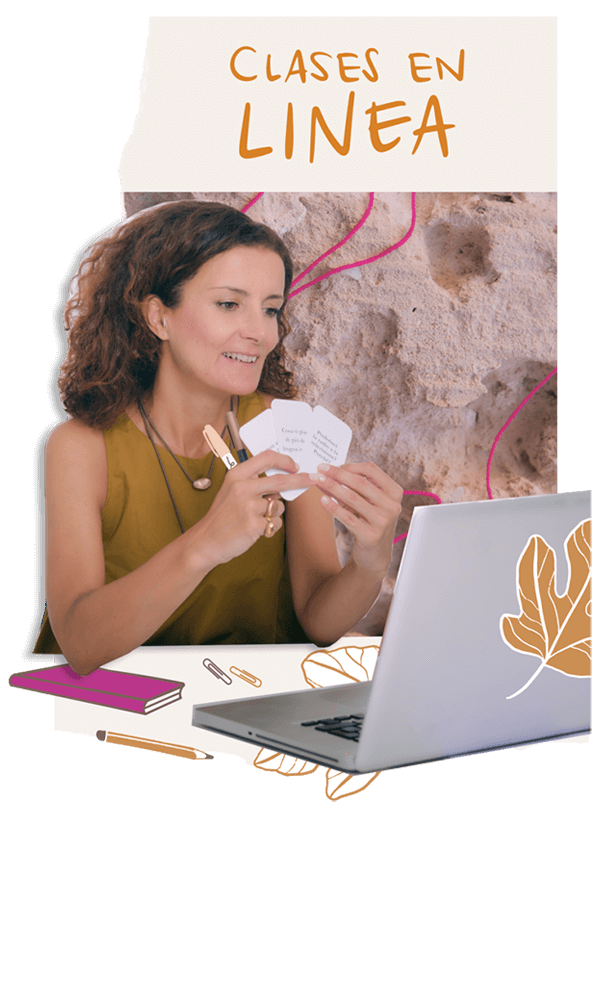 Italiano para estranjeros online
Nos vemos online si quieres profundizar tus conocimientos del italiano por medio de un camino lento y constante.
Sólo uso material auténtico, hecho para italianos, y también produzco recursos originales de acuerdo con los objetivos que se pretenden alcanzar.
Quiero brindar una visión de la cultura italiana contemporánea libre de estereotipos.
No hablo mucho, pero sí escucho muchísimo, y dejaré que tu italiano sea cada vez más suave y fluido.
Te permitiré descubrir las reglas de la gramática italiana por tu propia cuenta.
Prefiero investigar en detalle, en lugar de permanecer superficial, para llegar lejos.
Quiero brindar metodología y herramientas adecuadas para alimentar tu deseo de seguir estudiando y descubriendo el italiano en tu día a día.
Te acompañaré para que alcances tu objetivo con compromiso y creatividad y dejaré que tu entusiasmo me empuje más allá.
Quiero pasarte mi entusiasmo por los conocimientos básicos del italiano y luego compartir la maravilla de utilizar el idioma en la práctica. 
Las personas que he encontrado durante mi trayectoria para llegar a ser profesora de italiano para estranjeros están muy motivadas y les gustan muchísimo la cultura y el idioma de Italia.
Trabajo con alumnos y alumnas que ya tienen buenos conocimientos de italiano y que quieren ir más allá de sus limites; quieren hablar un italiano fluido y correcto; quieren comprender en detalle las reglas de gramática y la cultura de donde procede y, gracias a esto, ampliar sus horizontes. 
Si quiere recibir un correo lleno de "cosas" italianas una vez al mes y tener noticias sobre los próximos cursos, puedes rellenar el formulario aquí abajo para suscribirte. Al registrarte, recibirás acceso a mis recursos gratuitos.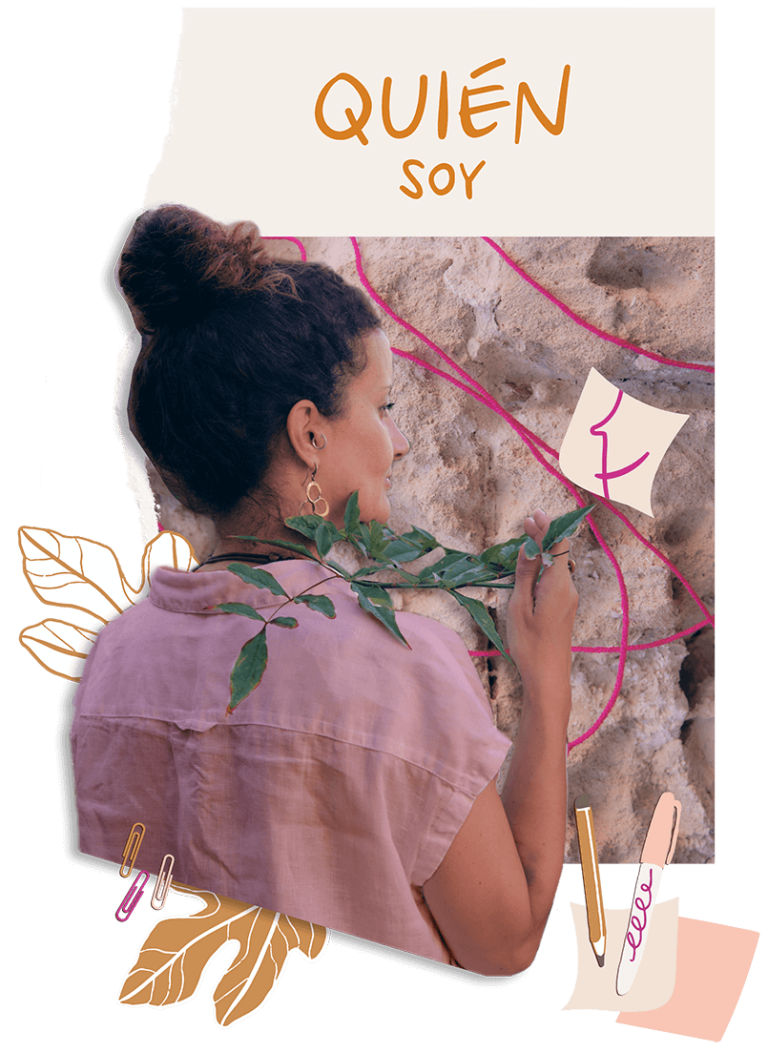 Me llamo Elisabetta y soy una profesora de italiano para estranjeros. ¿Por qué elegí este trabajo? Porqué es mi talento. ¿Cóme lo hago? De forma relajada y con determinación.
¿Quieres saber cóme he llegado hasta aquí?
Estos son mi regalos
para tì
Me gusta mucho que estudies italiano, que lo hables y quieras mejorarlo. Para agradecerte por tu pasión, decidí preparar unos regalos.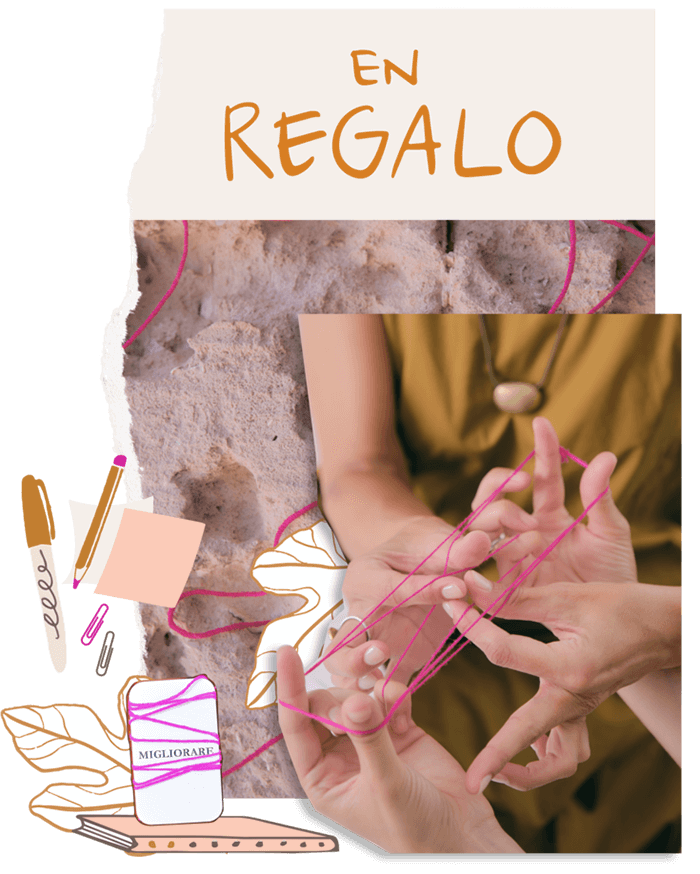 Lal experiencias de los demás
"Mi è piaciuta molto la città e ho visitato molti posti interessanti. Penso di aver imparato più italiano, più parole e anche un po' di congiuntivo. E' stato un ottimo soggiorno e sono stata contenta di tutto. Anche il tempo è stato fantastico".
"In may of 2019 I spent 2 weeks at Matera and frequented "La piccola scuola". I had a double lesson each day, all on my own with the teacher and owner of the school, Elisabetta. At the beginning of each lesson we talked about what I had been doing in my spare time and each day she gave me new ideas on where to go and what to see, which I followed whenever possible, and never regretted. Her lessons were both demanding and highly interesting, Elisabetta succeded in bringing in variety and depth. We worked on grammar and literary texts, did listening comprehension, we discussed questions of style and vocabulary, differences between written adn spoken italian as well as regional idiosyncrasies. In between we listened to Italian popular songs and watched a funny cartoon on TV. Elisabetta is a teacher who knows how to challenge students, so thaty they can make progress, learn from their mistakes and improve. She is highly professional, passionate and patient and stimulated me in a variety of ways. She gave me clarity where there had been confusion and helped me organise the knowledge I had acquired before I came to Matera. Matera, being the European cultural capital of 2019, is definetely worth a visit, it is extraordinary, unique, "una meraviglia", and if you can combine a visit to Matera with a course at "La piccola scuola" you get the perfect fusion of knowledge and study with culture and art."
"I had the great opportunity to do a two-month course with Elisabetta everyday for two hours. It was a wonderfully rewarding experience. Because, beyond the great progress I've made with the language, Elisabetta was always giving me more cultural insights so that I can use the language at best, in all its subtlety. Thanks to her, I speak Italian fluently. Moreover, her curiosity, her sincere interest in my work and her will to meet my needs, allowed me to deepen my knowledge of my field of activity (namely zero-waste) in italian. Elisabetta is really a beautiful personne, kind, professional and passionate, I can only recommend her to you ! And finally, what better than to learn Italian in the most fascinating city of Italy ? Matera is as wonderful as are the inhabitants that live there."
"I took three individual Italian lessons with Elisabetta at La Piccola Scuola in Matera.  Before I arrived, Elisabetta asked what I needed to work on and when I got there, she had lessons planned and worksheets printed out.  Elisabetta is very professional, knowledgeable and patient.  In the three hours we covered a lot of material and I was impressed with how clearly she explained things.  The school is in the lovely city of Matera, the European Capital of Culture 2019.  If you want to learn Italian or brush up on your Italian language skills in a picturesque southern Italian town, I highly recommend La Piccola Scuola".
"This was the first time that I took a language course in the country where the target language was spoken (instead of taking weekly classes in my city), and it was the right decision because "Immersion" is so much easier this way. The school is located in a really lovely town and offers a good atmosphere in a nice building. Elisabetta, the teacher and director,  is very motivated and it was a pleasure to learn with her. She answered every question we had and took our individual room for improvement into account. I attended a two week course with 4 hours of lessons daily (Monday to Friday), in a very small group of 3. Local people were very relaxed and reacted favourably to our attemps to transfer theory into practice – very important because to learn a language, it needs to be spoken, without fear of making mistakes. – It is easy to move around in Matera, my apartment was only a five minute walk away from the school. There are several museums, lots of restaurants and cafés, and possibilities to make excursions to neighboring places using public transportation. I really hope to come back and improve my Italian skills!".
La Piccola Scuola really is a small school. When I was there I was the only student for one week and there were two of us during the second. This allows the lessons to be well suited to the personal needs of the students. Elisabetta, apart from being very sympathetic, is a good teacher. I really enjoyed the lessons. Of course, the school is situated in the ancient city center of Matera, which makes it a unique place to learn Italian. I hope to return to this great city and to this school!
I recently spent a week studying italian language and culture with Elisabetta at La Piccola Scuola.Elisabetta is very passionate about the language and the town of Matera. She was very patient with my limited italian, was able toquickly assess my level and to design the classes to my best advantage. She was very patient and explained the grammar and theidiosyncracies of the language very well.Matera itself is one of the most fascinating towns I have visited. It is alive with history and there is plenty to do here, visiting the Sassi,the cave dwellings, underground churches and museums.It was a great combination of study and discovery which I highly recommend to others interested in the language and history of Italy.Thank you again, Elisabetta.
Durante la mia vacanza di una settimana a Matera in giugno ho frequentato il corso individuale di questa scuola per 2 giorni, 3 ore al giorno. L'insegnante era seria, brava e simpatica. Mi sembrava che a lei piacesse insegnare.Le lezioni sono state interessanti e divertenti. Mi ha preparato i diversi materiali didattici e non mi sono stancata. La posizione della scuola è molto buona, si può vedere il bellissimo panorama del Sasso Barisano dalla sua terrazza.
Thanks to Elisabetta's excellent teaching skills and the varied material she provided (texts for reading, film-clips for listening, tasks for writing, but also common, though sometimes challenging grammar-exercises) I think that I have finally succeeded in bridging the gap between my original, rather rudimentary Italian and the more tricky aspects of that language. After the end of my two-week course at La Piccola Scuola I spent some more time in beautiful and stunning Matera and Southern Italy, and it was actually then that I fully realized how much I had profited from what Elisabetta had taught me. Unless people spoke dialect – Elisabetta sets great store on a beautiful "classical" and correct Italian – I understood everyone almost fully and was able to participate in conversations on almost any subject, and even to use some idiomatic expressions. And, stimulated by Elisabetta's own interest in literature and films, I have now started to read Italian novels – almost fluently – to keep abreast of what I have learnt. Thanks a lot, Elisabetta.
I've come to Matera for three weeks to learn Italian. I couldn't say much but « Spaghetti » and « pomodoro » when I arrived. In three weeks, I have improved more than I could imagine, thanks to these courses. Elisabetta is an attentive and really kind person and teacher. She is methodic, patient, and encouraging. She does everything for you to evolve in a comfortable environnement. Plus, she is a curious person. Knowing about my work in cinema, she has adapted her lesson to help me learning basis of the cinema language. I have loved going to these classes everyday, and also before/after class sharing about the Italian and the French culture, about the nice spots in Matera and Italia, and having coffee together. Grazie per tutto Elisabetta. Spero che ci rivedremo presto.
Ho frequentato un corso di italiano di due settimane a La Piccola Scuola di Elisabetta in autunno 2017 e sono contentissimo di averlo fatto. Oltre ad aver imparato molto sulla lingua e cultura italiana, mi sono divertito tanto studiando nel nostro piccolo gruppo. Grazie all'utilizzo di materiali e metodi didattici versatili – spaziando dai diversi generi di testi (narrativi, giornalistici), canzoni e video ai giochi divertentissimi – e grazie soprattutto alla professionalità e gentilezza di Elisabetta, è migliorata a vista d'occhio la mia capacità di produrre e capire la lingua italiana. Consigliatissima! Saluti da Helsinki!
As an analytical thinker with a profound knowledge of German grammar, I conclude that Elisabetta masters the Italian language on all levels. Her verbal skills are as profound as her grammatical competence. Further, she is also interested and empathetic, in short, she is completely open-minded. Moreover, she understands Italian culture, society, and problems, enabling discussions on various important topics. Last but not least, with her uncompromising punctuality and reliability Elisabetta surpasses all previous stereotypes about Italy. I have worked with her for a whole year, three private lessons a week. Many more will follow.
Si tienes consultas o necesidades especiales, ¡Escríbame!